Phonurgia Nova Awards 2021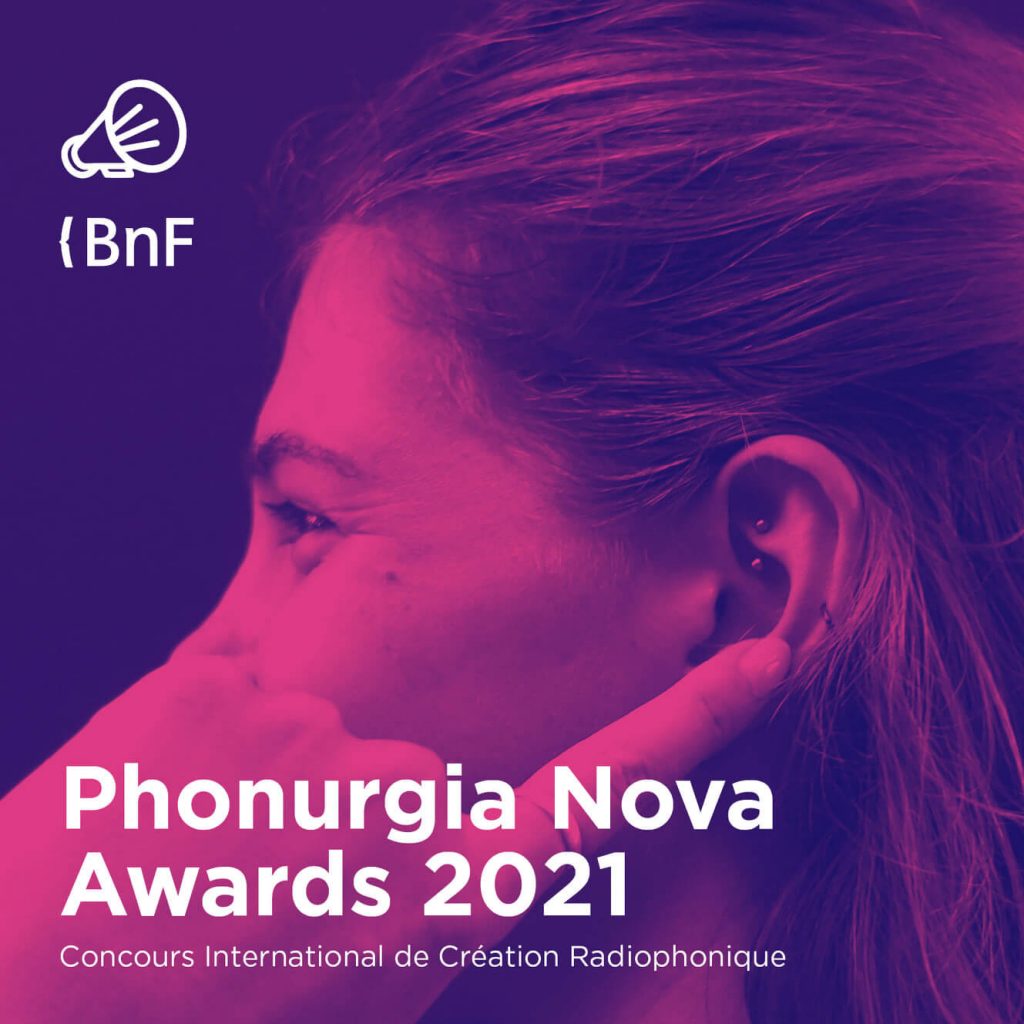 Friday 22nd October from 20:00 : prize list
Mélia Roger & Grégoire Chauvot, Birds and wires
(4'47, autoprod., France)
>| Prix Découvertes Pierre Schaeffer
A newly constructed fence surrounds a water point in the Lyon countryside. At dawn, the birds take turns to drink. Their flights lead them to land on the barbed wire, giving rise to metallic resonances. This phonography reveals by surprise the traces of the musicality of the landscape.
Mélia Roger (ENS Louis-Lumière), and Grégoire Chauvot (Femis) evolve between cinema and sound arts.
—
Alice Milot & Charlie Dupiot, Chère(s) voix
(34', Postscriptum-Podcast, France. With Léa Fossey)
>| Prix Archives de la Parole
François, aged 44, architect, speaks with a shrill voice that has never changed. He accepted it for a long time, without trying to understand its peculiarity. But in the spring of 2020, a meeting with a speech therapist decided him to start a therapy to change it. Today he addresses his two voices, the old and the new.
Alice Milot and Charlie Dupiot are journalists for RFI, France Culture and RTS. In June 2019, they created Post-scriptum, an independent podcast of "sonic letters" that give out impossible dialogues.
—
Mehdi Bayad, Rouge Vif
(65'23, autoprod., Belgium)
>| Prix Fictions sonores
In a soundproof studio, two men record a podcast. But curious events soon interrupt the experience.
Mehdi Bayad is at the same time the author, the sound recordist, the editor, the mixer and the unique actor of this sound fiction. This creation is freely inspired by an essay by Jacques Rancière: The Emancipated Spectator.
Mehdi Bayad is the author and director of the radio dramas Lumière Noire, Bisou à demain and Rouge Vif.
—
Loré Lixenberg, theVoicePartyOperaBotFarm
(57', Ö1 KunstRadio et Deutschlandfunk Kultur, Germany)
>| Prix Art sonore
Out of the trauma of the Brexit referendum in 2016, The Voice Party was born. Standing in the UK 2019 elections, The Voice Party stands for everything that the mainstream parties do not and if elected would restructure the entire political system around the beautiful, truthful, harmonious and egalitarian laws of pure sound. The Voice Party is a political party, an opera and also musical/ artistic action with its own party manifesto that aims to overhaul the structure of society taking every aspect of political endeavour and reorganise them along the principles of pure music and sound. TheVoicePartyOperaBotFarm is a kind of Twitter troll that delivers a stream of multi-voiced operatic, multi-formed invective, advice and humour. Follow the botfarm sur @TheVoiceParty1.
Loré Lixenberg studied composition with Woolrich, Vores and Saxton, also masterclasses with Peter Maxwell Davies. She has performed internationally on concert platforms and galleries, opera houses, and has collaborated on experimental installations and vocal performances with visual and sound artists.
Loré Lixenberg presents herself as the leader of the Voice Party. Her works explore the porosity between digital, analog, political and psychological forms.